Twisted X Men's Chukka Hiker
Regular price

$159.95 USD

Regular price

Sale price

$159.95 USD

Unit price

per
Twisted X Men's Chukka Hiker
Regular price

$159.95 USD

Regular price

Sale price

$159.95 USD

Unit price

per
Share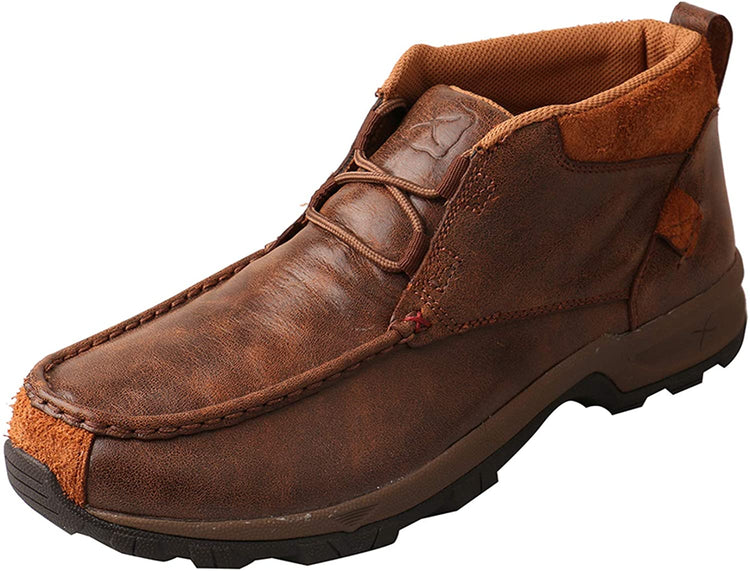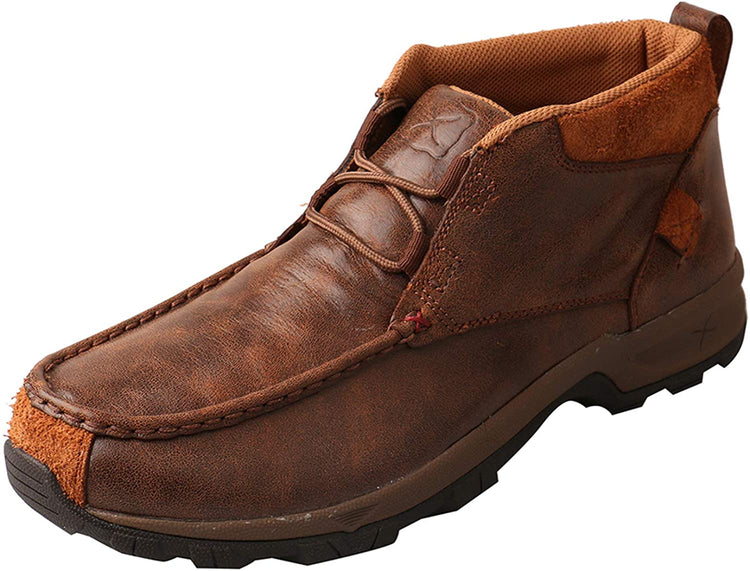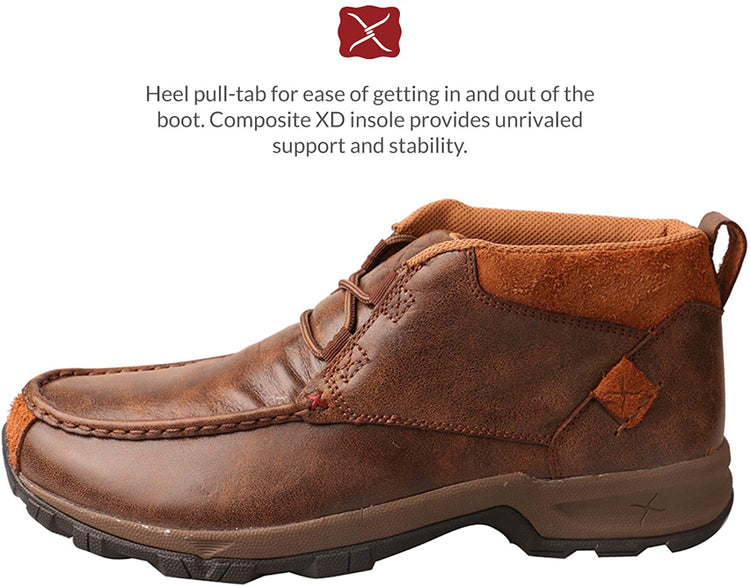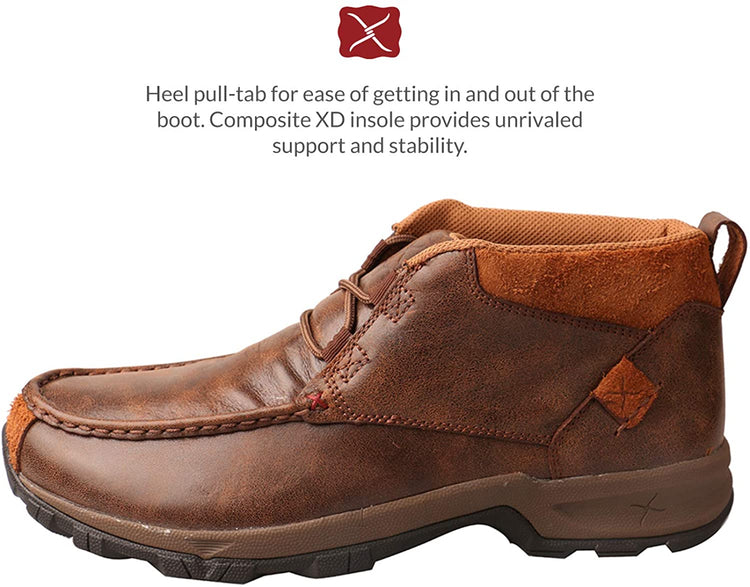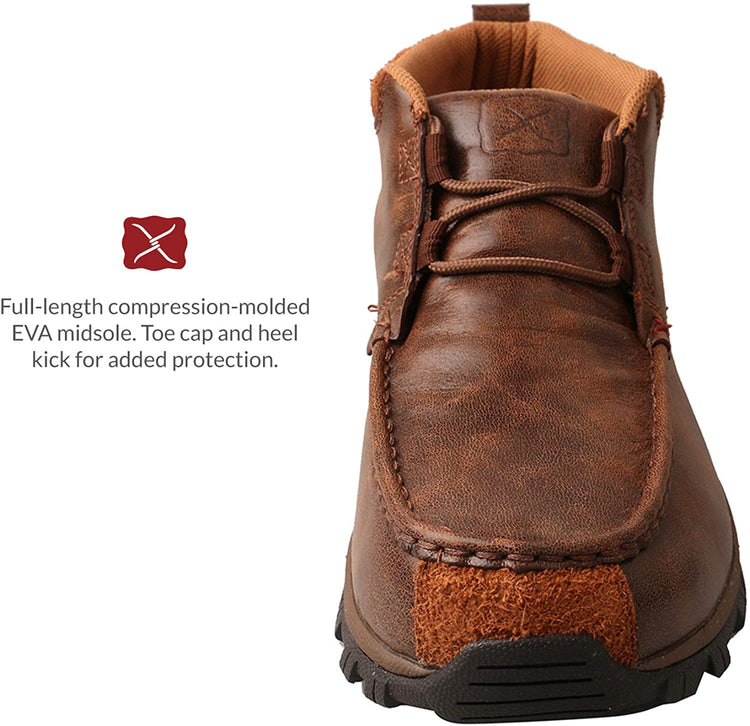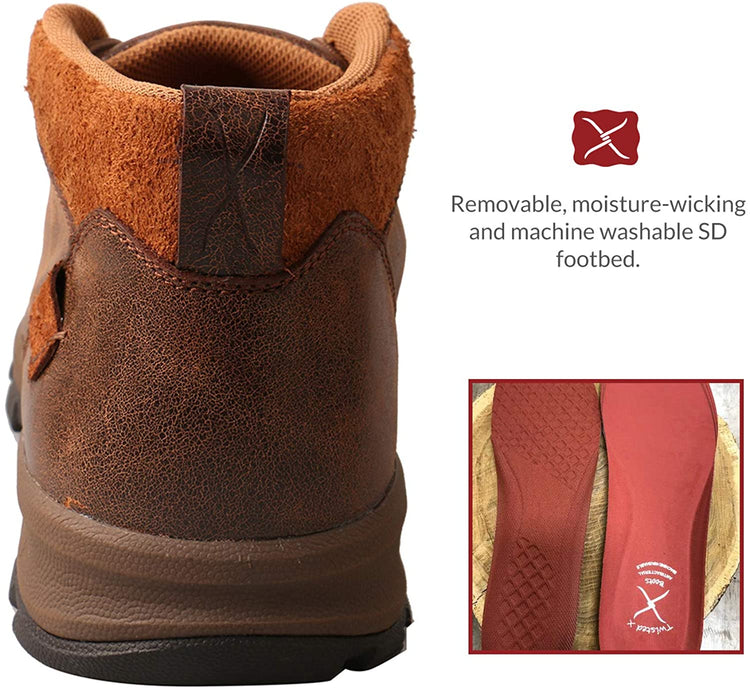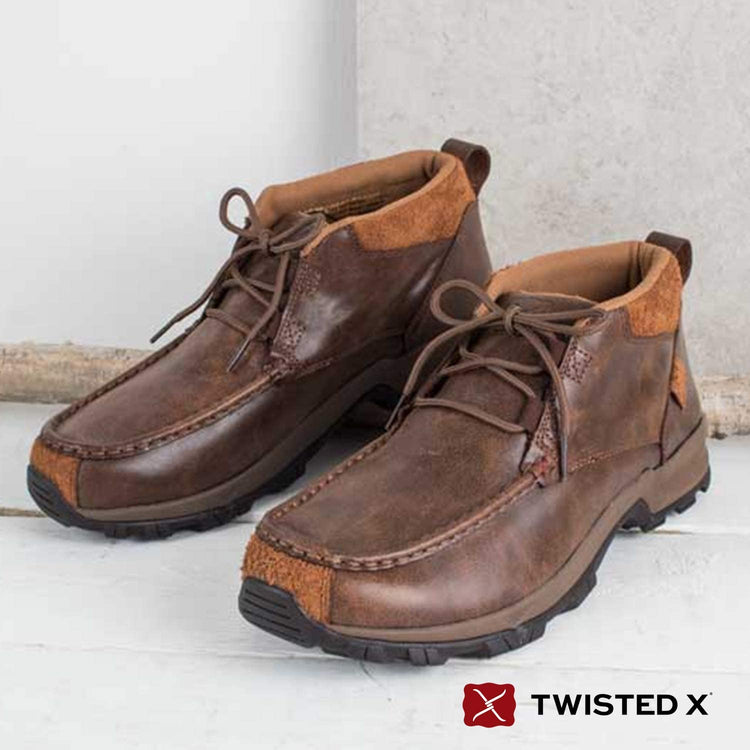 Description
Shipping Information
Size Chart
Twisted X Men's Waterproof Chukka Hiker fue diseñado para manejar todo, desde pasear por un sendero de montaña accidentado hasta un día de 14 horas en el taller. Estas botas están hechas a mano con pieles de grano completo premium y cuentan con un forro impermeable transpirable. La plantilla SD y la plantilla XD compuesta proporcionan un cojín y apoyo durante todo el día. La entresuela de EVA moldeada de longitud completa proporciona una capa de absorción de impactos para todo el pie. Esto se combina con una suela de senderismo Twisted X resistente al aceite y antideslizante con lengüetas para tracción en condiciones difíciles. Para mejorar la vida útil del calzado, esta suela tiene una puntera integrada y una patada en el talón. Estas características se combinan para producir una bota versátil que tiene una mayor funcionalidad en comparación con otros zapatos casuales. Specs: COLOR: Marrón GENERO: Hombres OUTSOLE COMPOSICIÓN: Caucho moldeado CATEGORÍA DE PRODUCTOS: Al aire libre GRUPO DE PRODUCTO: Casuales CARACTERÍSTICAS DE SEGURIDA: Impermeable ESTATO: Forma del dedo del pie D ANCHA: M W,W Calzado casual La comodidad de los mocasines de conducción Twisted X te hará convencido de que estás pateando de que estás convencido de que estás dando en tus zapatillas más cómodas! Las suelas están construidas con una construcción especial de doble duración que proporciona la máxima flexibilidad. La parte superior de cuero con suela de goma proporciona resistencia al deslizamiento, y la plantilla moldeada antibacteriana y lavable que absorbe la humedad proporciona comodidad durante todo el día.

Twisted X נעלי Chukka Hiker עמידות במים לגברים עוצבו כדי להתמודד עם כל דבר, החל מטיול שביל הרים מחוספס ועד 14 שעות ביממה בסדנה. המגפיים האלה מיוצרים בעבודת יד מעור מלא מובחר וכוללים בטנה נושמת חסינה למים. מדרס SD ומדרס XD מורכב מספקים ריפוד ותמיכה לאורך כל היום. הסוליה האמצעית העשויה EVA המעוצבת באורך מלא מספקת שכבת ספיגת זעזועים לכל כף הרגל. זווג עד סוליה חיצונית Twisted X עמידה בפני שמן והחלקה עם בליטות בשרניות לאחיזה בתנאים מאתגרים. כדי לשפר את תוחלת החיים של הנעלה, לסוליה החיצונית הזו יש כובע בוהן משולב ובעיטת עקב. תכונות אלה משתלבות כדי לייצר מגף רב-תכליתי עם פונקציונליות מוגברת בהשוואה לנעליים יומיומיות אחרות. מפרט: צבע: מגדר חום: הרכב סוליה חיצונית לגברים: קטגוריית מוצר גומי יצוק: קבוצת מוצרים לשימוש חוץ: מאפייני בטיחות יומיומית: מצב סגנון עמיד במים: צורת בוהן פעילה: רוחב בוהן D: M, W נעליים יומיומיות הנוחות של נעלי מוקסין לנהיגה Twisted X תגרום לך להיות משוכנע שאת בועטת בנעלי הבית הנוחות ביותר שלך! הסוליות החיצוניות בנויות עם מבנה מיוחד שמחזיק מעמד כפול המספק גמישות מקסימלית. גפה מעור עם סוליה חיצונית מגומי מספקת עמידות להחלקה, ומדרס יצוק מנדף לחות, אנטיבקטריאלי, רחיץ מספק נוחות לאורך כל היום.

Der wasserdichte Chukka Hiker von Twisted X für Herren wurde entwickelt, um alles zu bewältigen, vom Spaziergang auf einem rauen Bergweg bis hin zu einem 14-Stunden-Tag in der Werkstatt. Diese Stiefel sind handgefertigt aus hochwertigem Vollnarbenleder und verfügen über ein atmungsaktives, wasserdichtes Futter. Das SD-Fußbett und die XD-Composite-Einlegesohle bieten ganztägige Dämpfung und Unterstützung. Die durchgehende geformte EVA-Zwischensohle bietet eine stoßdämpfende Schicht für den gesamten Fuß. Gepaart wird dies zu einer öl- und rutschfesten Twisted X Hiker-Außensohle mit beckigen Stollen für Traktion unter anspruchsvollen Bedingungen. Um die Lebensdauer der Schuhe zu verbessern, verfügt diese Außensohle über eine integrierte Zehenkappe und Fersenkick. Diese Eigenschaften ergänzen einen vielseitigen Stiefel, der im Vergleich zu anderen Freizeitschuhen eine erhöhte Funktionalität aufweist. Spezifikationen: Farbe: Braun Geschlecht: Herren Außensohle: Geformtes Gummi Produktkategorie: Outdoor Produktgruppe: Casual Sicherheitsmerkmale: Wasserdicht Stil Status: Aktive Zehenform: D Zehenbreite: M, W Freizeitschuhe. Der Komfort von Twisted X Mokassins wird Sie davon überzeugen, dass Sie in Ihren bequemsten Hausschuhen treten können. Die Laufsohlen sind mit einer speziellen, dual-lasted Konstruktion gebaut, die maximale Flexibilität bietet. Obermaterial aus Leder mit Gummi-Außensohle bietet Rutschfestigkeit, und das feuchtigkeitsableitende, antibakterielle, waschbare geformte Fußbett bietet ganztägigen Komfort.

تم تصميم حذاء تشوكا هيكر الرجالي المقاوم للماء من تويستد إكس للتعامل مع كل شيء بدءًا من المشي في الجبال الوعرة إلى يوم 14 ساعة في ورشة العمل. هذه الأحذية مصنوعة يدويًا من جلد محبب بالكامل وتتميز ببطانة مسامية مقاومة للماء. يوفر النعل الداخلي اس دي والنعل الداخلي اكس دي المركب توسيد ودعم طوال اليوم. نعل أوسط مصبوب بالكامل من مادة ايفا يوفر طبقة من امتصاص الصدمات للقدم بالكامل. هذا يتواءم مع نعل خارجي Twisted X مقاوم للانزلاق والزيت مع عروات بارزة من أجل الثبات في الظروف الصعبة. لتحسين عمر الحذاء، يحتوي هذا النعل الخارجي على غطاء مدمج لأصابع القدم وركل الكعب. تمتزج هذه الميزات لإنتاج حذاء متعدد الاستخدامات يزيد من الأداء مقارنةً بالأحذية الكاجوال الأخرى. المواصفات: اللون: بني الجنس: تركيبة النعل الخارجي للرجال: مجموعة المنتجات المطاطية المصبوبة: مجموعة المنتج في الهواء الطلق: غير رسمي. ميزات السلامة: مقاومة للماء: شكل أصابع القدم: حذاء كاجوال مقاس M، W راحة أحذية بدون كعب للقيادة Twisted X ستجعلك تقتنع أنك ترتدي أكثر خف مريح لك! النعل الخارجي مصمم بهيكل خاص مزدوج الطبقات يوفر أقصى قدر من المرونة. يوفر الجزء العلوي من الجلد مع نعل خارجي مطاطي مقاومة للانزلاق، كما يوفر النعل الداخلي المصبوب المقاوم للرطوبة والمضاد للبكتيريا والقابل للغسل الراحة طوال اليوم.

Chukka Hiker masculino impermeável Twisted X foi projetado para lidar com tudo, desde passeios de uma trilha robusta até um dia de 14 horas na oficina. Estas botas são feitas à mão com couros de flor integral premium e apresentam um forro impermeável respirável. A palmilha SD e a palmilha composta XD oferecem amortecimento e suporte o dia todo. A entressola de EVA moldada de comprimento total oferece uma camada de absorção de choque para todo o pé. Esta é combinada com uma sola Twisted X resistente a óleo e escorregões com saliências robustas para tração em condições desafiadoras. Para melhorar a vida útil do calçado, esta sola tem uma biqueira integrada e chute no calcanhar. Estas características se misturam para produzir uma bota versátil que tem maior funcionalidade em comparação com outros calçados casuais. Especificações: Cor: Marrom Gênero: Sola Masculina: Composição da Sola Masculina: Borracha Moldada Categoria do Produto: Exterior Grupo de Produto: Casuais Características de Segurança: Estilo Impermeável Estado: Forma dos Dedos Ativos: Largura do Dedo: M, W Calçado Casual O conforto dos mocassins Twisted X fará você convencido de que você está chutando em seus chinelos mais confortáveis! As solas são feitas com uma estrutura especial de dupla duração que oferece máxima flexibilidade. O cabedal de couro com sola de borracha oferece resistência ao deslizamento, e a palmilha moldada antibacteriana e lavável oferece conforto durante todo o dia.

Twisted X 男士防水高帮皮马靴经过专门设计,从漫步崎岖的山地小径到在车间的 14 小时一天都可以使用。 这些靴子采用优质全粒面皮革手工制作,并配有透气防水衬里。 SD 鞋垫和复合材料 XD 鞋垫提供全天的缓冲和支撑。 全长模压 EVA 中底为整个脚提供一层减震层。 这款鞋采用耐油和防滑的 Twisted X 徒步外底,搭配厚实凸耳,在挑战性条件下提供抓地力。 为了提高鞋子的使用寿命,这款外底具有一体式鞋头和鞋跟踢。 与其他休闲鞋相比,这款多功能靴的功能更强。 规格:颜色:棕色 性别:男式外底 成分:模塑橡胶 产品类别:户外 产品组:休闲安全 特点:防水款式 状态:Active Toe 形状:D 鞋头宽度:M,W 休闲鞋履 Twisted X 驾驶软帮鞋的舒适性会让您相信您穿着最舒适的拖鞋! 外底采用特殊的双耐久结构,提供最大的灵活性。 皮革鞋面搭配橡胶外底防滑,吸湿排汗、抗菌、可水洗的模压鞋垫提供全天的舒适感。

Twisted X 男款防水 Chukka 登山鞋的設計旨在應對從漫步崎嶇的山區小徑到工作坊 14 小時的一切。 這些靴子採用優質全粒面皮革手工製作,並配有透氣防水襯裡。 SD 鞋墊和複合式 XD 鞋墊提供全天候的緩衝和支撐。 全長模製 EVA 中底為整個腳部提供一層減震效果。 與防油防滑的 Twisted X 登山鞋 外底搭配,搭配厚實的錶耳,在充滿挑戰的環境中提供抓地力。 為了延長鞋子使用壽命,這款外底配有一體成形的鞋頭和鞋跟。 這些特點混合生產多功能靴子,與其他休閒鞋相比,增加了功能性。 ​ 規格:顏色:棕色性別:男士外底成分:模壓橡膠產品類別:戶外產品類別:休閒安全特點:防水風格狀態:活躍腳趾形狀:D 腳趾寬度:M,W 休閒鞋Twisted X 駕駛莫卡辛的舒適度會讓您感到有說服力 你是 穿上最舒適的拖鞋! 外底採用特殊的雙持久結構,提供最大靈活性。 皮革鞋面搭配橡膠鞋底,防滑,吸濕排汗、抗菌、可水洗的模製鞋墊提供全天的舒適感。

Twisted X 남성용 방수 추카 하이커는 거친 산길을 산책하는 것부터 작업장에서 14시간 하루까지 모든 것을 처리할 수 있도록 설계되었습니다. 이 부츠는 프리미엄 풀 그레인 가죽으로 수작업으로 제작되었으며 통기성이 좋은 방수 안감이 특징입니다. SD 풋 베드와 합성 XD 깔창은 하루 종일 쿠션과 지지력을 제공합니다. 전체 길이의 몰딩 EVA 중창은 발 전체에 충격을 흡수하는 레이어를 제공합니다. 이 제품은 까다로운 조건에서도 마찰력을 위해 두꺼운 러그가 있는 오일 및 미끄럼 방지 Twisted X 하이커 밑창과 짝을 이룹니다. 신발 수명을 향상시키기 위해 이 밑창은 발가락 캡과 힐 킥이 통합되어 있습니다. 이러한 특징이 혼합되어 다른 캐주얼 신발에 비해 기능이 향상된 다용도 부츠를 생산합니다. 사양: 색상: 브라운 GENDER: 남성용 밑창 구성: 몰드 고무 제품 카테고리: 야외 제품 그룹: 캐주얼 안전 기능: 방수 스타일 상태: 액티브 토 모양: D 토 너비: M, W 캐주얼 신발. Twisted X 드라이빙 모카신의 편안함은 가장 편안한 슬리퍼를 신고 걷어차게 할 것입니다! 밑창은 최대의 유연성을 제공하는 특수 이중 지속 구조로 제작되었습니다. 고무 밑창이 있는 가죽 갑피는 미끄럼 방지 기능을 제공하며 수분 흡수, 항균, 세척 가능한 몰드 풋 베드는 하루 종일 편안함을 제공합니다.
100% Leather
Made in the USA or Imported
Mesh lining
lace-up closure
CONSTRUCTION AND MATERIALS: Full-grain leather upper provides increased durability. Heel pull-tab for ease of getting in and out of the boot
WILL KEEP YOU DRY: Waterproof, breathable interior lining to keep your feet dry
HIGH-QUALITY FOOTBED: Removable, moisture-wicking, and machine washable SD footbed
SHIPPING OPTIONS
What's Hot Clothing offers standard shipping on all US orders which takes approx. 3-5 business days for delivery. Shipping is free on all orders over $50. 
SHIPPING RESTRICTIONS
What's Hot Clothing does not currently ship to all geographical locations and address types. Below are some general guidelines
What's Hot Clothing does ship to P.O. Boxes and military APO/FPO addresses.
What's Hot Clothing does not ship to international addresses.
ORDER TRACKING
If you provide a valid email address when you order, you will receive two kinds of emails:
Almost immediately after you place an order, you will receive an email with the subject "What's Hot Clothing Order Confirmation". This email confirms your order was received and is being processed.
When your order ships, you will receive an email with the subject "What's Hot Clothing Order Shipment Confirmation" that contains your shipment tracking number. With this number, you have 24-hour access to monitor the progress of your package as it is in transit to you.
If your order appears late, you should consider the following:
Delivery occurs only on business days, Mondays through Fridays.
There are certain holidays that carriers do not pickup or deliver.
It may take 24 hours before tracking information appears on the UPS website.
Men's Shoes Size Conversion
| | | | | | | | | | | | | | | | | | |
| --- | --- | --- | --- | --- | --- | --- | --- | --- | --- | --- | --- | --- | --- | --- | --- | --- | --- |
| US & Canada | 6 | 6.5 | 7 | 7.5 | 8 | 8.5 | 9 | 9.5 | 10 | 10.5 | 11 | 11.5 | 12 | 13 | 14 | 15 | 16 |
| UK | 5.5 | 6 | 6.5 | 7 | 7.5 | 8 | 8.5 | 9 | 9.5 | 10 | 10.5 | 11 | 11.5 | 12.5 | 13.5 | 14.5 | 15.5 |
| Europe | 39 | 39 | 40 | 40-41 | 41 | 41-42 | 42 | 42-43 | 43 | 43-44 | 44 | 44-45 | 45 | 46 | 47 | 48 | 49 |
| Inches | 9.3 | 9.5 | 9.6 | 9.8 | 9.9 | 10.1 | 10.3 | 10.4 | 10.6 | 10.8 | 10.9 | 11.1 | 11.3 | 11.6 | 11.9 | 12.2 | 12.5 |
| Centimeters | 23.5 | 24.1 | 24.4 | 24.8 | 25.4 | 25.7 | 26 | 26.7 | 27 | 27.3 | 27.9 | 28.3 | 28.6 | 29.4 | 30.2 | 31 | 31.8 |
(% authorFirstLetter(review.author) %)
(% review.author %)

verified
(

(% review.thumbs_count %)

)
Helpful
showing reviews from (% reviewsData.reviews.from %) to (% reviewsData.reviews.to %) Previous Page Next Page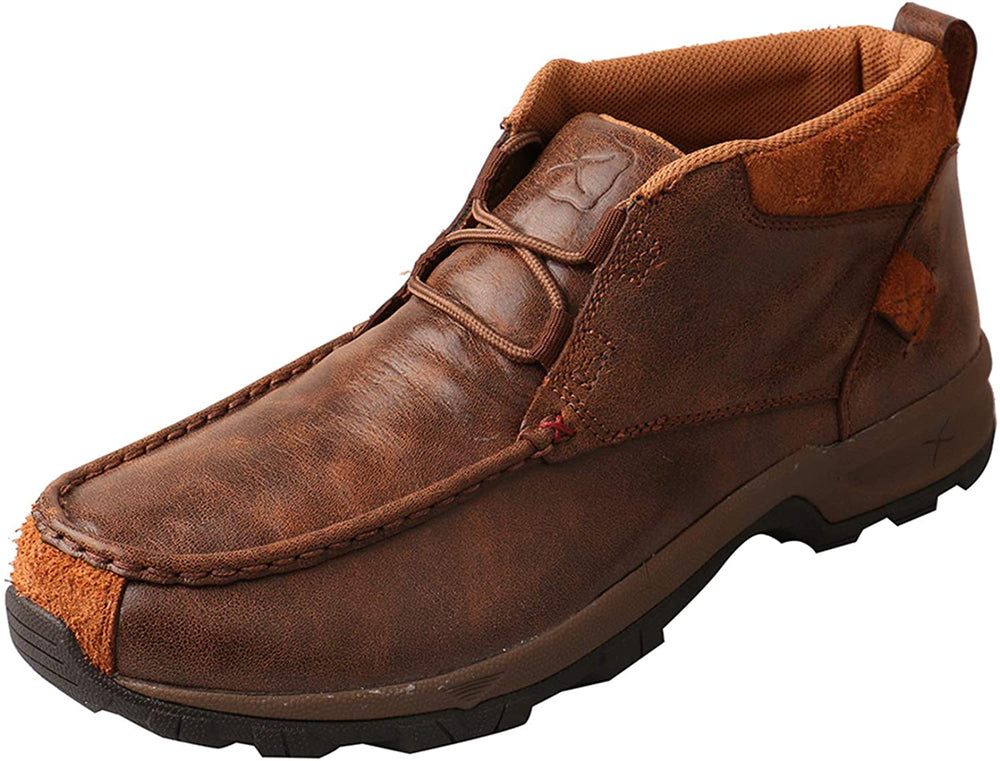 Twisted X Men's Chukka Hiker
$159.95